We were delighted with the great response and feedback to our very first conference for independent nurseries held at fabulous Great Tythe Barn in Tetbury, Gloucestershire.
The conference was arranged to help nurseries develop new ways of working to boost their business and to network with other nursery owners and staff.
Journalist and Broadcaster, Matthew Biggs is a keen supporter of independent nurseries and the work of the British Plant Nursery Guide so he made the perfect MC and Key Note Speaker.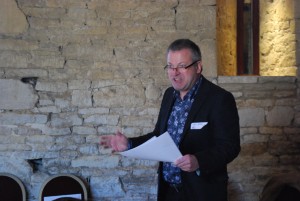 Matt Biggs gave a highly energised and motivational speech
The event was held in conjunction with Melcourt, one of our regular business partners and suppliers of compost and mulch for the British Plant Nursery Guides stand at RHS Chelsea Flower Show and included a tour of their nearby production unit.
In addition to the main conference, delegates were offered the opportunity to receive a personal private tour of Highgrove Gardens the afternoon preceding the event with the Head Gardener Debs Goodenough. This was a real treat and a chance to see the gardens at a time of year when visitors are not normally permitted. It was a great chance to see the structure and form of the garden and hear about the new plans and vision of the garden by HRH The Prince of Wales.
The evening of the first day was spent at the appropriately named 'The Potting Shed' restaurant where the main topic of conversation over supper was of course plants!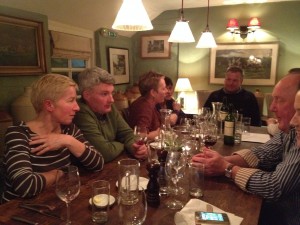 Sue, Gavin, Claire, Laura, Matt Biggs and Ric get to know each other and talk plants!
The conference included inspirational speakers and several workshop activities to give some fresh ideas to marketing and to suggest some new innovative business ideas.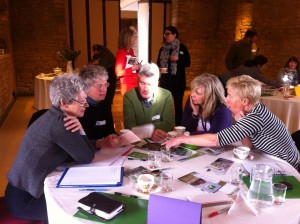 Catherine, Derry, Gavin, Sharon and Sue get stuck into the marketing masterclass
Group activities provided a great chance to share knowledge and learn from each others experiences.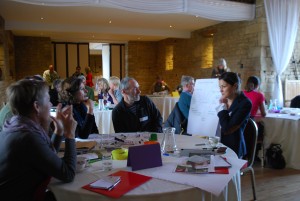 Claire, Neil, Emma, Jim and Sophia come up with some great ideas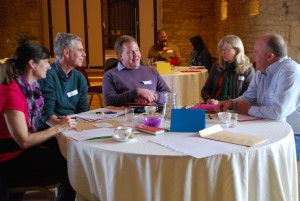 Sara, Mark, Adam, Pat and Ric have a healthy discussion on mail order plants
After a super lunch the event included a tour of Melcourt's nearby production facility where delegates could see first hand the raw ingredients of the compost and mulches.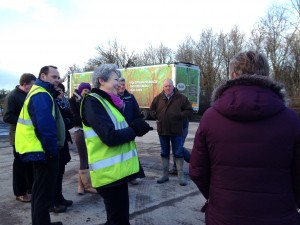 A lovely sunny afternoon was spent at Melcourt to learn more about sustainable composts and mulches
Catherine Dawson, Melcourt's Technical Director, was on hand to explain how nurseries are benefiting from improved plant growth and Neil Gray, Sales Manager, was available to discuss product ranges including their new retail nursery quality compost for the gardener.
We received great feedback and this is what one of the delegates had to say…
"Thank you for organising such a good conference I hope you will do another next year." – Adam Smith, Wykeham Mature Plants
And the best thing was everyone made new contacts and it really was great fun!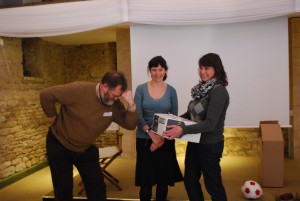 After a long day the pressure was just too much for some – Kevin, Laura and Bel
Thanks to everyone who came along and we're sorry for those who couldn't make it this time but the good news is that we are already planning our next events.
We've produced a report of the Kick Start Conference, contact us if you would like a copy.
If you would like to register an interest in our next events as an exhibitor or delegate please drop us a line at info@britishplantnurseryguide.co.uk
For more photos of the Kick Start Conference held in the Cotswolds take a peek at our Facebook page